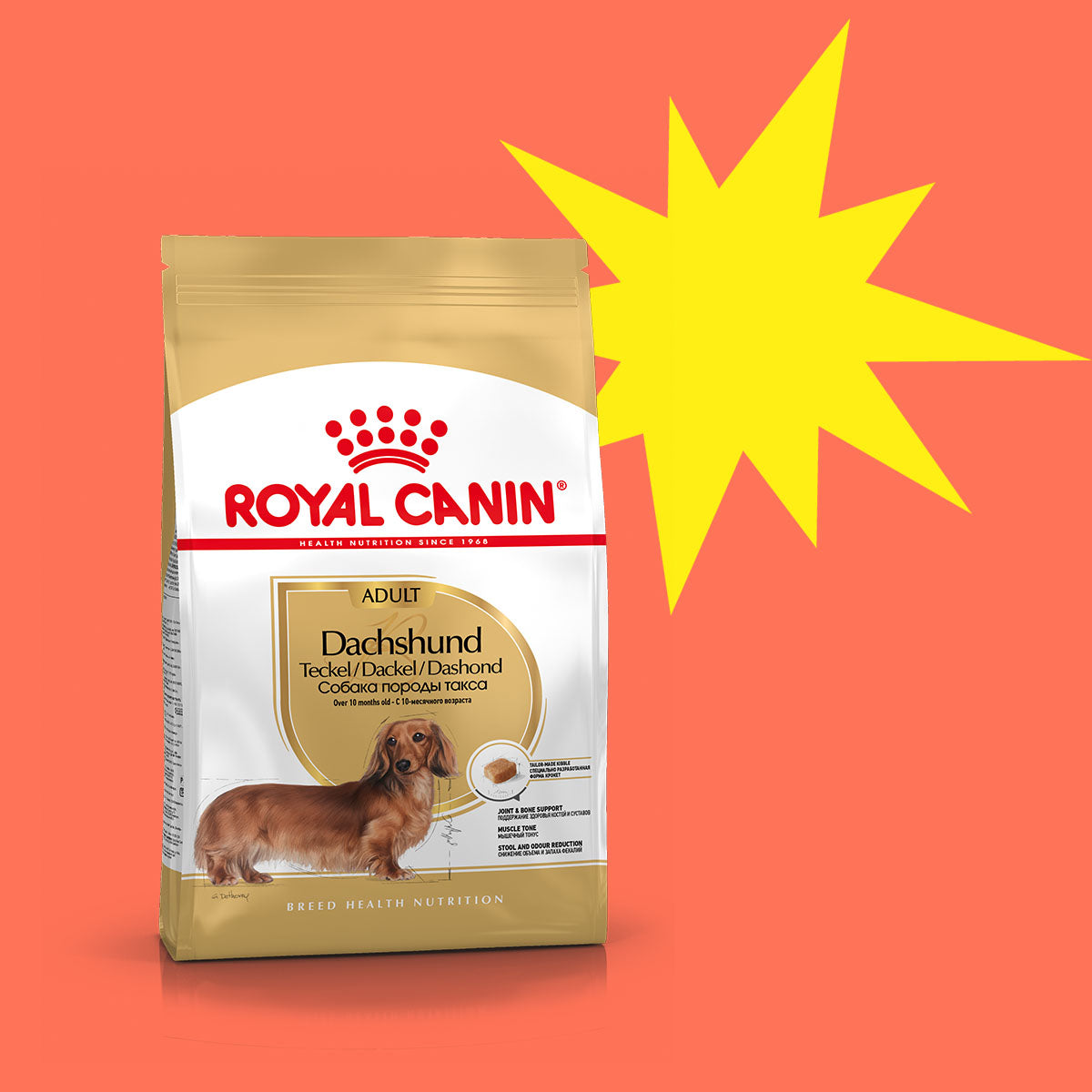 Dachshund parents are known to go to extreme lengths to find clothes that actually fit their doxies' long, bodies (we know a few who have even turned to making their own), so it seems only natural that dachshunds should get the same custom treatment when it comes to their food, too. And considering their unique physique, dachshunds are prime to benefit from a handful of key nutrients that you may not find in standard dog food. At Witzig, we're big fans of Royal Canin's dachshund food, which is specially crafted to keep your dachshund healthy and well-fed.

Grounded in research
Royal Canin was originally founded by a French veterinarian who felt that the food that pets ate directly impacted their health. Since day one, the research-derived pet food company has been going the extra mile when it comes to crafting food for your pups. They've been making size specific and breed specific pet food for over 20 years, and at this point, they've gotten it down to a science. Royal Canin works with vets, pet nutrition experts, and dachshund breeders to inform what goes into their line of dachshund food so that doxie parents can feel confident in what they're feeding their pups.

Start out on the right foot
Dachshunds that are still growing have different needs than their older doxie friends who have a few years under their belts. Too much or too little calcium, for example, can cause bone problems in growing pups, so Royal Canin's puppy food is made with a precise level of calcium to support their growth. The puppy formula is also made with vitamins E, C, and other antioxidants to nourish a strong and developing immune system.

Supports their sausage shape
Long bodies and little legs make the breed especially adorable, but these unique physical traits come with some extra challenges, too. Chondrodystrophy, or the gene mutation that causes dachshunds legs to stop growing prematurely, puts the breed at higher risk for back issues like IVDD. In Royal Canin's kibble, the calcium and phosphorus content is formulated to keep their bones strong, which is especially important for protecting those long spines. You'll also find ingredients like EPA and DHA — poly-unsaturated fatty acids — that help preserve joints and keep cartilage healthy and hydrated, to minimize inflammation and joint pain. And pain-free means all the more energy to play!




Made with their mouths in mind
You'd recognize that long, pointed muzzle anywhere, right? Dachshunds' tiny but mighty jaws served them well back in their hunting days. But jaw structures that differ from other breeds make for different biting patterns when your doxie is eating. The size, shape, and texture of Royal Canin kibble were all specifically made for dachshunds' mouths so that it's easy for them to pick up and chew – and that consideration that went into the kibbles' structure also means that bits of it are less likely to get stuck between your pup's teeth to cause plaque buildup.

Long and lean
As dachshunds age, weight maintenance becomes especially important to help protect their backs. With this in mind, the fat content in Royal Canin's adult food is sufficiently moderated to help ward off unnecessary weight. The food also contains both L-carnitine and is high in protein, which encourages lean, toned muscle mass. Another key factor when it comes to healthy weight? Digestive health. Their kibble is made with ingredients like rice and easier-to-digest proteins and fibers, which, in addition to weight management, also makes for lower (and less smelly) stool volume.

We like to think of it as personalized dog food, since so much care went into creating a recipe that put dachshunds' unique bodies and health needs first. And while we're on the topic of pet nutrition, we like to think that Royal Canin kibble tastes best when served in a slow feeder bowl, since the interior requires dachshunds to slow down while eating. Your doxie deserves the best, right?